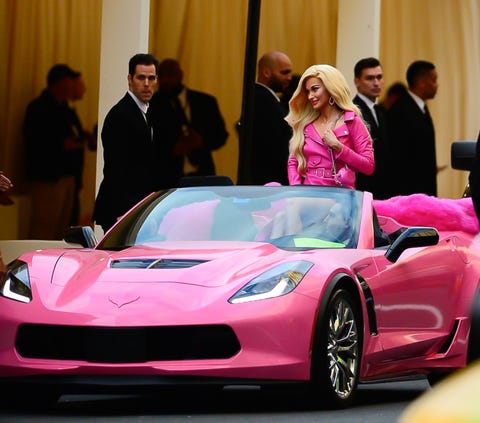 Raymond Hall/GC ImagesGetty Images
Kacey Musgraves dressed as Barbie for the 2019 Met Gala, arriving in a pink Chevrolet Corvette Z06 convertible.
The Gala happens on the first Monday in May every year; it is a fundraiser to benefit the Metropolitan Museum of Art.
The theme for the Gala this year was "Camp: Notes on Fashion."
Country superstar and Grammy-winning artist Kacey Musgraves went all out for last night's Met Gala, dressing as a classic Barbie doll and rolling up to the event in a pink Chevrolet Corvette convertible, a Barbie hallmark. And it wasn't just any Corvette—it was a Z06.
Now, pink sadly isn't a stock color for the Corvette, so we bet the car was created just for this event. It doesn't seem like a cheap wrap, either, as even the doorjambs are pink—mismatching doorjambs are usually a hallmark of a wrap that was cheaped out on.
While her ride was by Chevy, the outfit was by Jeremy Scott for Moschino. Musgraves wore a hot-pink leather jacket that was turned into a floor-length gown with a high slit, and her signature straight black hair was covered up by a massive, perfect blonde wig. In true Barbie fashion, she brought a bunch of accessories beyond "just" the Corvette, among them a huge feather boa, retro sunglasses, and a blow dryer for a purse. All of which were hot pink, of course.
Barbie Cars Date Back 40 Years
The first toy Barbie Corvette was introduced in the 1970s, and it has since become Barbie's signature ride, with different iterations being sold in every decade since. It's not the only car she's ever driven, though. Barbie's past cars have included an Austin Healey, many Jeep Wranglers, some Porsche 911s, a Ferrari 328, Chevy Bel-Airs, a Rolls-Royce Corniche, a GMC motorhome, and much more. And most of them have been pink.
Formally called the Costume Institute Gala, the Met Gala is a fundraising ball that benefits the Metropolitan Museum of Art's Costume Institute in New York City. Every year has a different theme, with the attendees expected to dress up accordingly. This year, the theme was "Camp: Notes on Fashion," and the guest list of celebrities, models, fashion influencers, and the like went all out. (Click here to read about the theme.)
DON'T FORGET: Father's Day is Sunday, June 16